TED Talks
The Official TED Guide to Public Speaking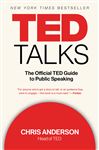 Preview

Buy multiple copies

Print & copy permissions

unrestricted

{{format_drm_information.page_percent}}

%

pages

every

day

{{format_drm_information.interval}} days

Not enabled

Read Aloud

Supported devices
This title will be released on .
This eBook is no longer available for sale.
This eBook is not available in your country.
New York Times Bestseller 

"Catnip for all the TED fans out there." —Publishers Weekly"The most insightful book ever written on public speaking . . . a must-read." —Adam Grant, Wharton professor and New York Times best-selling author of Give and Take and Originals
Since taking over TED in 2001, Chris Anderson has shown how carefully crafted talks can be the key to unlocking empathy, spreading knowledge, and promoting a shared dream. Done right, a talk can electrify a room and transform an audience's worldview; it can be more powerful than anything in written form.
This "invaluable guide" (
Publishers Weekly
) explains how the miracle of powerful public speaking is achieved, and equips you to give it your best shot. There is no set formula, but there are tools that can empower any speaker. 

Chris Anderson has worked with all the TED speakers who have inspired us the most, and here he shares insights from such favorites as Sir Ken Robinson, Salman Khan, Monica Lewinsky and more — everything from how to craft your talk's content to how you can be most effective on stage. This is a must-read for anyone who is ready to create impact with their ideas.
 
---
---
Read online
If you're using a PC or Mac you can read this ebook online in a web browser, without downloading anything or installing software.
Download file formats
This ebook is available in file types:
This ebook is available in:
After you've bought this ebook, you can choose to download either the PDF version or the ePub, or both.
DRM Free
The publisher has supplied this book in DRM Free form with digital watermarking.
Required software
You can read this eBook on any device that supports DRM-free EPUB or DRM-free PDF format.
Digital Rights Management (DRM)
The publisher has supplied this book in encrypted form, which means that you need to install free software in order to unlock and read it.
Required software
To read this ebook on a mobile device (phone or tablet) you'll need to install one of these free apps:
To download and read this eBook on a PC or Mac:
Adobe Digital Editions (This is a free app specially developed for eBooks. It's not the same as Adobe Reader, which you probably already have on your computer.)
Limits on printing and copying
The publisher has set limits on how much of this ebook you may print or copy. See details.
{{ format_drm_information.format_name }} unrestricted

{{ format_drm_information.format_name }} {{format_drm_information.page_percent}}

%

pages

every

day

{{format_drm_information.interval}} days

{{ format_drm_information.format_name }} off
Read Aloud
{{ read_aloud_information.format_name }} on

{{ read_aloud_information.format_name }} off