InFlux: Contemporary Art in Asia brings together essays by leading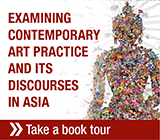 critics and curators to examine modern and contemporary art practice and its discourses in Asia. Covering diverse regions spanning China, India, Thailand, Iran, West Asia, Pakistan, Kazakhstan, Hong Kong, Tibet, and Cambodia, the book examines their multiple modernities and the arrival of many Asia's upon the contemporary art scene.
Some centers have become celebrated in the international exhibition circuit and the art market, but there is also an Asia beyond their ambit, and the book throws light upon major and minor, established and emergent geographies of art. Asia's own internal minorities fracture any unified sense of place, and representing this diversity has become a major challenge for today's curator.
What is the impact on contemporary art of state power and burgeoning economies, or the persistent stereotypes of Asian craftsmanship, exoticism, and religiosity or the new ones of terrorism and tourist paradise? The book aims to challenge some of these perceptions by viewing modern and contemporary Asian art not as a given field but as a project in flux, constantly under revision via art practice and curatorial interventions.